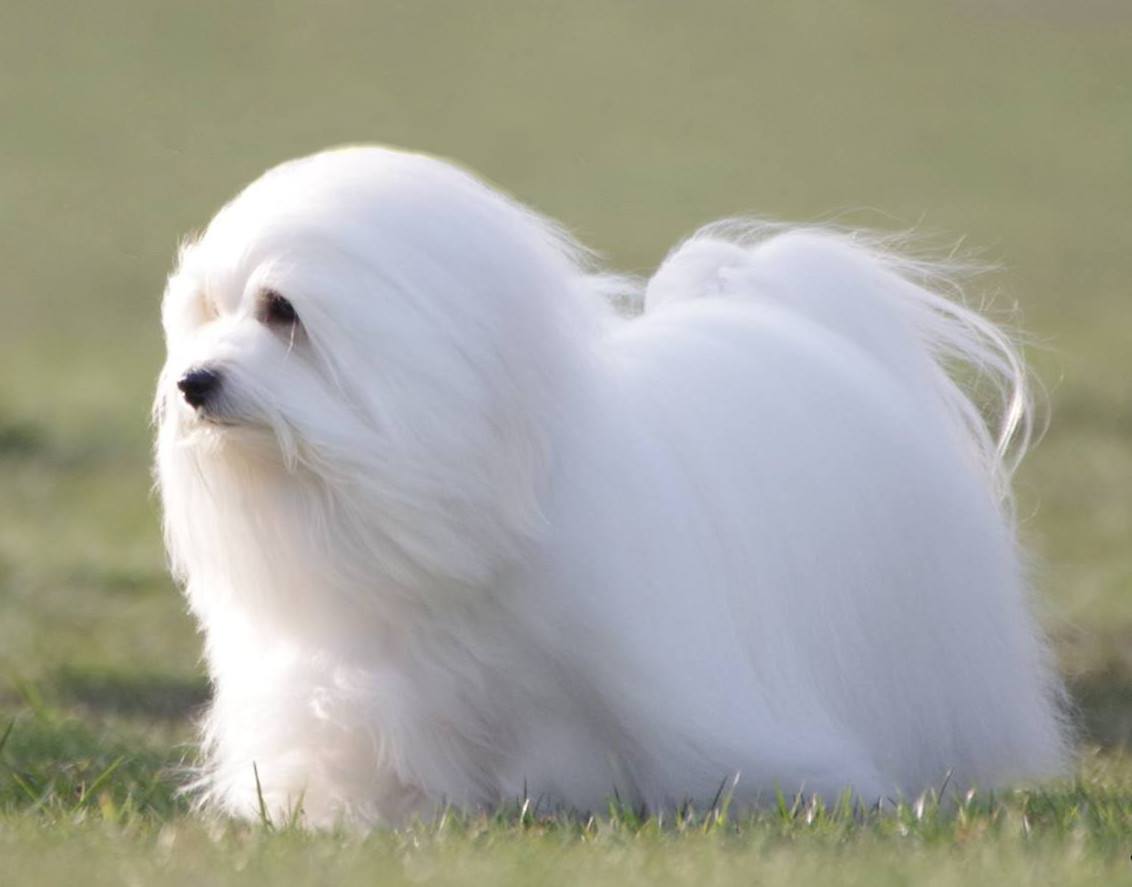 Cotonbrie LADY MARGOTH
Date of birth: 29.05.2015
Champion of Poland, Champion of Slovakia, Club Winner Opole 2017, Winner of Poland 2017, Winner of Slovakia 2017, Cruft Qualification 2017,2018, Junior Champion of Poland, Youth Club Winner Opole 2016, Junior Winner of Poland 2016
Place 5 BIS Puppy Brno 2016, Place 1 Junior BOD Zielona Góra 2016, Place 1 BIS Junior Katowice 2016, Place 3 BIS Junior Opole 2016, Place 1 BIG Junior Praga 2016, Place 2 BIG Chorzów, Place 1 BIG Zabrze, The Most Beautiful Dog Shows BIS Place 1 Zabrze, RES.BOG IX Będzin 2017,> BIG.IX Place 4 Kraków 2017, BIG.IX Place 1 Rybnik 2017, Best In Show Place 4 Rybnik 2017
Cotonbrie Hasta la Vista

Italian Champion

 Cotonbrie Fantomas
Shance de l'Echo des Elingues
Reggae de l'Echo des Elingues
Loopytoon Oula Hoop
Cotonbrie Elettra
Bar-Ken's Texas Star
Cotonbrie Ambarabacicicoco
 Cotonbrie Angelique
Bar-Ken's Cowboy Tango
Uletide du Domaine de la Rouviere
 Bar-Ken's Delilah
Cotonbrie Magic White Angel
 Rifelin Julius Caesar
 Bemby de Guitelione

Cotonbrie Ginevra

Junior World Winner 2013

 Cotonbrie Alessandro Magno
Bar-Ken's Cowboy Tango
Uletide du Domaine de la Rouviere
 Bar-Ken's Delilah
Revolution de la Chaumiere du Lac
Ouragan de la Chaumiere du Lac
Naiade de la Chaumiere du Lac
 Cotonbrie Fly Away
 Bar-Ken's Texas Star
Bar-Ken's Bamboo of Mi-Toi
Tiara Treasure du Domaine de la Rouviere
 Cotonbrie Dudu Dufur
Cotonbrie Vercingetorige
Cotonbrie Bibbitibobitibu
In the eyes of the judges
… a beautiful puppy, perfect proportions and expression, full of temperament, promises to be perfect.
… Wonderful with a beautiful robe, the head fits the body, walks beautifully …
… Perfect front, correct size and proportions, perfect head and pigment, perfectly set ears, length of the neck, perfect spine line and angulation, perfect gait and color.
… Very beautiful female dog, perfect expression of the head, perfect neck, correct topline type.
| Date | Show | Judge | Class | Rezultat |
| --- | --- | --- | --- | --- |
| 19.01.2019 | IDS Lublin (PL) | | champion | doskonała |
| 17-18.11.2018 | IDS Poznań (PL) | | champion | CAC, CACIB, Best female dog, Poland Winner 2018, BOS |
| 15.10.2018 | EDS Polska | Laurent Pichard (CH) | champion | Excellent, Champion Class IV/VIII |
| 15.09.2018 | SpVP Łódź (PL) | Maria Gvozdieva | champion | CWC, BOS |
| 13. 08.2018 | WDS Amsterdam (NL) | | champion | 2nd Champion Class |
| 10.12.2018 | IDS Nitra (SK) | Rafał First (PL) | champion | BOS, CACIB |
| 10.11.2017 | WDS Lipsk (DE) | Cristian Stefanescu (ROU) | champion | 2/13, Excellent, res.CAC |
| 08.11.2017 | German Winner (DE) | Vija Klucniece (LVA) | champion | Excellent, CAC |
| 22.10.2017 | MVP Poznań (PL) | Gruttner Hans (DE) | champion | V1, CAC, CACIB, BOS, Winner of Poland |
| 21.10.2017 | MVP Poznań (PL) | Opara Janusz (PL) | champion | V1, CAC, CACIB, BOS |
| 01.10.2017 | NVP Rybnik (PL) | Opara Krystyna (PL) | champion | V1, CAC, CACIB, BOB, BIG.IV BIS |
| 24.09.2017 | NVP Brno (CZ) | Kubes Robert (CZ) | | V1, CAC |
| 17.09.2017 | spVP Praga (CZ) | Ronander Inger (NO) | | V1, CAC, Special Winner Shows, BOS |
| 27.08.2017 | EVP Kijów (UA) | Cochetti Francesko (IT) | champion | V2, res.CAC |
| 29.07.2017 | NVP Będzin (PL) | Żuchlińska Mariola (PL) | champion | V1, CAC, BOS |
| 18.06.2017 | MVP Kraków (PL) | Kozłowska Magdalena (PL) | champion | V1, CAC, CACIB, BOB, 4.BIG |
| 17.06.2017 | NVP Kraków (PL) | Harnik Sebastian (PL) | champion | V1, CAC, BOB |
| 04.06.2017 | MVP Nitra (SK) | Kruczek Jakub (PL) | champion | V1, CAC, CACIB, BOB |
| 21.05.2017 | MVP Rzeszów (PL) | Supronowicz Małgorzata (PL) | champion | V1, CAC, CACIB, BOB |
| 22.04.2017 | MVP Opole (PL) | Petersen Marie (DK) | open | V1, CAC, CACIB |
| 21.04.2017 | KIVP Opole (PL) | Klirova Nadezda (CZ) | open | V1, CAC, Club Winner |
| 09.04.2017 | NVP Zabrze (PL) | Dopierała Aneta (PL) | open | V1, CWC, Best female dog, BOB |
| 02.04.2017 | NVP Racibórz (PL) | Dzidt Anna (PL) | intermediate | V1, CWC, Best female dog, BOB |
| 19.03.2017 | MVP Katowice (PL) | Lovenkjaer Svend (DK) | intermediate | V1, CAC, CACIB, BOS |
| 19.02.2017 | NVP Bratislava (SK) | Kralova Edita (SK) | intermediate | V1, CAC, BOS, Slovakia Winner |
| 05.02.2017 | MVP Brno (CZ) | Klucniece Vija (LV) | intermediate | V1, CAC, CACIB, BOS |
| 04.02.2017 | MVP Brno (CZ) | Jilkova Zdenka (CZ) | intermediate | V1, CAC, CACIB |
| 29.01.2017 | NVP Będzin (PL) | Jung Małgorzata (PL) | intermediate | V1, CWC, Best female dog, BOB, RES.BIG |
| 04.12.2016 | MVP Nitra (SK) | Balogh Zsuzsanna Vaczine (HU) | intermediate | V1, CAC, CACIB, BOS |
| 03.12.2016 | MVP Nitra (SK) | Klirova Nadezda (CZ) | intermediate | V1, CAC, CACIB, BOS |
| 13.11.2016 | MVP Kielce (PL) | Redlicka Anna (PL) | open | V1, CAC, RES. CACIB |
| 09.10.2016 | NVP Zabrze (PL) | Jung Małgorzata (PL) | intermediate | V1, CAC, BOB, BIG 9, BIS |
| 17.09.2016 | SpVP Bile Policany (CZ) | Klirova Nadezda (CZ) | intermediate | V1, CAC, Club Winner Shows Czechy, BOS |
| 10.09.2016 | NVP Chorzów (PL) | First Rafał (PL) | intermediate | V1, CAC, BOB, 2.BIG |
| 27.08.2016 | EVP Bruksela (BE) | Condo Pietro Paolo (IT) | junior | V2 |
| 14.08.2016 | NVP Bytom (PL) | Kuriata-Okarmus Monika (PL) | junior | V1, CAJC, BOJ, BOS, BIS Junior |
| 22.05.2016 | MVP Rzeszów (PL) | Ostrowski Adam (PL) | junior | V1, CAJC, BOJ, BOS |
| 15.05.2016 | MVP Łódż (PL) | Bruno Nodali (IT) | junior | V2 |
| 01.05.2016 | MVP Praga (CZ) | Beradze Iuza (GE) | junior | V1,CAJC,BOJ,BOS,BIG Junior |
| 23.04.2016 | MVP Opole (PL) | Kruczek Jakub (PL) | junior | V1,CAJC,BOJ,BOS |
| 22.04.2016 | KIVP Opole (PL) | Marabotto Marco (IT) | junior | V1,CAJC,BOJ,BOS, Klubowy Zw.Mł, 3.bis |
| 10.04.2016 | NVP Ostrava (CZ) | Vaclavik Miroslav (CZ) | junior | V1,CAJC,BOJ |
| 03.04.2016 | MVP Nitra (SK) | Volinets Serghei (PL) | junior | V2 |
| 02.04.2016 | MVP Nitra (SK) | Jilikova Zdenka (CZ) | junior | V1,CAJC,BOS |
| 20.03.2016 | NVP Katowice (PL) | Pyrchała Ewa (PL) | junior | V1,CAJC,BOJ,BOS,BIS Junior |
| 19.03.2016 | NVP Katowice (PL) | Opara Janusz (PL) | junior | V1,CAJC,BOJ,BOS |
| 05.03.2016 | MVP Zielona Góra (PL) | Spela Briski Cirman (SK) | junior | V1, CACJ, BOJ, BOS, BOD Junior |
| 04.03.2016 | NVP Zielona Góra (PL) | Piotr Król (PL) | junior | V1, CACJ, BOJ, BOS |
| 07.02.2016 | MVP Brno (CZ) | Belskyy Vitaliy (UA) | puppy | VN1, 5. BOD Puppy |
| 06.02.2016 | MVP Brno (CZ) | Kubeš Robert (CZ) | puppy | VN2 |
| 31.01.2016 | NVP Bedzin (PL) | Nasteska Natasha (MK) | puppy | VN1, Best Puppy |
| 10.01.2016 | NVP Brno (CZ) | Klírová Naděžda (CZ) | puppy | VN1 |
| 20.12.2015 | MVP Wilnius (LT) | Velez Roberto Pico (PT) | puppy | VN1, Best Puppy |
| 19.12.2015 | MVP Wilnius (LT) | Nasteski Slobodan (MK) | puppy | VN1, Best Puppy |
| 08.11.2015 | MVP Poznaň (PL) | Zhuk Anatolii (BY) | puppy | VN1 |
| 11.10.2015 | NVP Zabrze (PL) | Zasada Maria (PL) | minor puppy | VN1, Best Minor Puppy |
| 04.10.2015 | NVP Rybnik (PL) | Kuriata-Okarmus Monika (PL) | minor puppy | VN1, Best Minor Puppy |